August 2015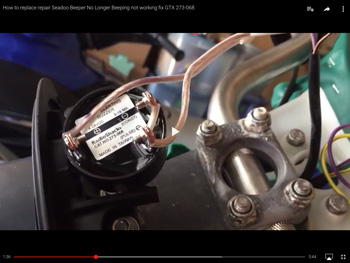 August turned into a fix the JetSki saga.
First of all I had to fix the beeper that confirms all is or isn't OK with your SeaDoo. Fortunately there was a great YouTube video explaining how to do it. Although we don't have Radio Shack here in the UK, Radio Spares came to the rescue. When you go on the website of the beeper manufacture there are so many to choose from it's daunting. Fortunately this guy had done the spade work. I still don't understand why you have to connect the 'pulse' and 'tone' together to get it to work as surely its an either or call, but it isn't, I tried. Just follow the instructions and it works...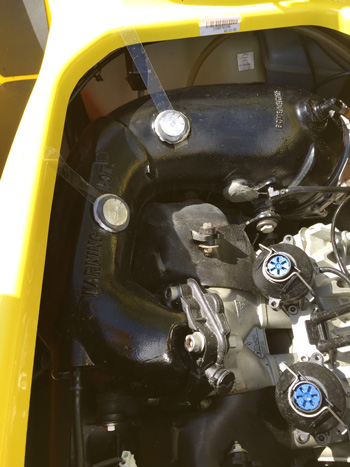 Then one day I noticed the bilge wasn't as dry as normal...
Yes, the leaking, by corrosion, exhaust water jacket core plug. So out with the JB-Weld to bond on a 30mm diameter aluminium disc. In fact I decided to do all the remaining core plugs. I was, however, concerned that the hole in the front core plug was too small for the amount of sea water in the bilge. I was right to be concerned, when I came to winterise the boat the bilge filled with blue antifreeze! there was one more core plug I had failed to spot and this one had a huge hole in it. Very difficult to glue the aluminium disc over it due to it's almost inaccessible position under the exhaust. I tried using a mirror but resorted to feel in the end. I haven't checked it yet, a job for next spring or perhaps sooner if my boat heater project gets built.