February 2009
It's been a very busy month but little work on the hull. I was working away for a week and when I got back I found my jetty had tried to set sail for Portsmouth. Time to knock in a few new piles, a definite workout for those under used muscles...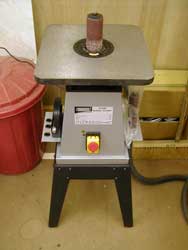 The woodworking show at Alexandra Palace is always worth a visit although the number of exhibitors was definitely down from the last time I went which was two years ago. As an asside, the Master classes are well worth attending. I was particularly interested in Bobbin sanders and have subsequently purchased a stand mounted Draper from DM tools.
Unfortunately it turned out to have been a Friday afternoon example and was only supplied with 3 of the four legs and the 1.5" bobbin wouldn't clamp it's sandpaper tube. But DM Tools were on the case and new parts arrived in the next post. Fantastic service.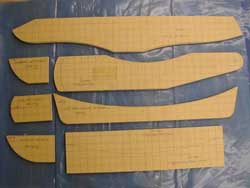 The reason for the purchase was to facilitate the manufacture of a pair of Adirondack chairs for the deck. The plans courtesy of the New Yankee Workshop were shipped from the States by a friend. So far I've cut out the patterns and just need to sand them to shape. Next job is to finish the cut list and get the timber ordered. Rest assured this is not a distractionary project, apart from the patterns, as the chairs are a project for my wife. If you do purchase a set of these plans be warned there are errors in some of the dimensions, so do check the New Yankee Web site for corrections.
On the hull front I have ordered some 410 Microlight filler for the hull as it's recommended to be the easiest fairing compound to sand and enough fibreglass cloth to sheath the keel. I've also sourced a 'Bubble buster roller' to help in the laminating process. All this was sourced from East Coast Fibreglass Supplies who delivered promptly and at a competitive price.
No excuses now...