January 2006
The January Boat Show at Excel is always worth a visit if only to muster some enthusiasm for getting back into the workshop during these cold winter months. And it's also a reminder that another year has all to quickly passed by.
Excel is a great venue for this show and early Sunday morning is a good time to scope stuff out and ask questions before the crowds build up around mid day.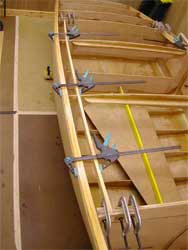 I thought that fitting the inner sheres or cockpit side beams would be easy after the struggle I had with the main shere clamp. In fact there is a lot of spring in these short lengths requiring all my body weight to get them in position. These photos were taken after the dry fit I did to check out the clamping technique.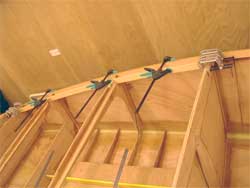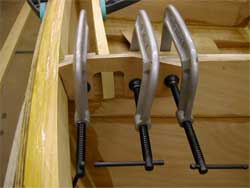 The clamping method involves bridging across the ends of the beams and clamping these bridges to the bulkheads using load spreaders under the clamps. Looks straight forward until you realise you need three hands. Just like soldering, something else you need three hands for...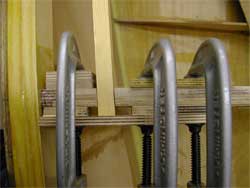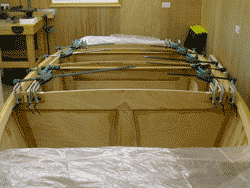 Masking tape stood in for the third hand but total bodyweight, a mere 67kg, was necessary to get the aft section in position while I tightened up the clamps. The lateral clamps are to maintain the inner shere's offset from the main shere clamp and I'll have to bond in some spacer pieces at a later date.