November 2018
So while the varnish hardens and this gets harder as the temperature drops as we head towards winter, I consider another electronics project.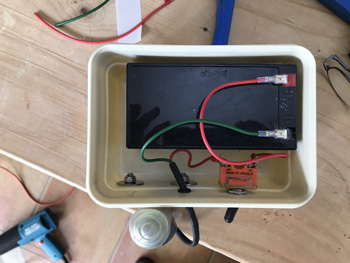 The first project was a self contained pump to clear the water left in the bilge after using the sports boat. One day I'll find out how it gets in there...
This used up a 12v battery I bought many years ago for my daughters electric tractor, a windscreen washer pump, a suitable SPST switch and some silicone hose all packaged in a generic tupperware box.
The next project was more challenging. One of the problems all boaters face when they leave their boat on a swinging mooring is birds who land and poop. Bird shit is a structural material, very hard to remove.
I figured what I needed was a simple bird scarer.
I'll post details of the project separately for those interested and will let you know if it's successful in keeping my boat bird free.